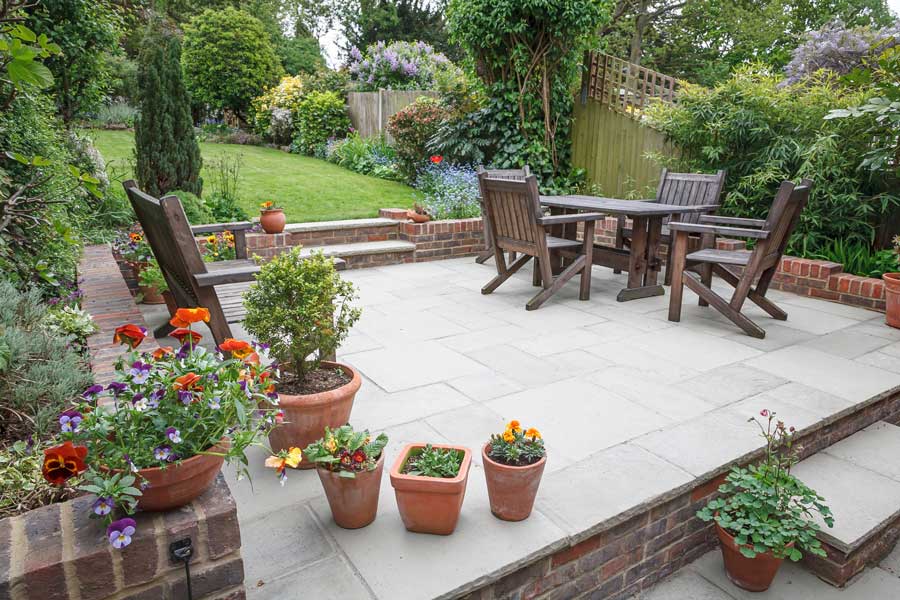 By CO Hard Surfaces
Posted on 4-8-2022

Do you dream of hosting summer BBQs and gatherings, but your drab concrete patio is standing in the way? Don't let a worn-out patio stop you from gathering with friends and family. Revitalize your concrete patio with one of these suggestions!
Add Decking
If your patio is cracked, crumbling, and a dreary gray, this can be a damper visually but also a physical hazard. You don't want people to accidentally trip and hurt themselves on your property. One way you can fix this problem and add some warmth to your outdoor space is to cover over your patio with decking!
Layer Pavers
If your concrete patio slab is looking a little too homogenous, you can add visual interest with the help of pavers. Pavers are often used to add borders and curves to the landscape, but you can also use them to build a firepit! Who doesn't love a good bonfire?
Lay Down a Rug
One of the simplest ways to update a concrete patio is with a rug. A large, striking area rug can turn a boring space into a stylish one in an instant. This is also a great option for those that like to change their outdoor decor seasonally, since you can easily have a few nice rugs that you can rotate out.
Coat It
Another excellent way to transform your patio is to have the concrete coated. Not only do concrete coatings offer protection, but they also make maintenance easier and are available in a range of styles and finishes. Contact CO Hard Surfaces today to discuss your options! We can do hard surface coatings like glossy epoxy, or we can stain your concrete to look like whatever you desire. Look at our gallery to see examples of what we can do for you. No matter what your vision is, we can make it happen so that you can enjoy your outdoor space with friends and family all year long.