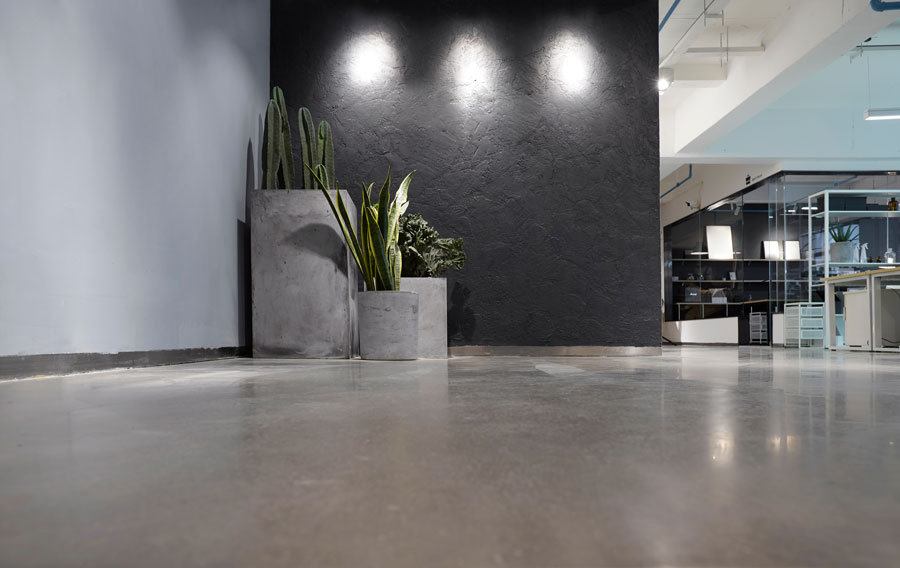 By CO Hard Surfaces
Posted on 12-12-2022

Unhealthy indoor air quality can be caused by several factors, including the off-gassing of toxic chemicals from paints and finishes, carpeting, manufactured wood goods attached with high- formaldehyde glues, dust mites, mold spores, mildew, and even some cleaning solutions. Half of all illnesses are directly linked to air quality issues within the home.
Concrete floors are highly valued for their benefits to the environment and human health. The use of concrete flooring not only enhances the visual appeal of a room but also reduces the number of toxic compounds in the air. Low-volatile-organic-compound (VOC) concrete floors, made possible by advancements in concrete flooring product formulation, contribute to preserving high-quality indoor air.
Use Polished Concrete to Enhance Indoor Air Quality
Treating Allergies
Carpets are filthy and provide a haven for dust mites, pollen, and other allergens. It's a significant contributor to the development of allergic reactions. Concrete flooring is hypoallergenic because it doesn't collect dust and other allergens and is easy to keep clean.
Enhance the Quality of Indoor Air
Mold development in buildings has been related to various health issues, including migraines, pneumonia, and lowered immune systems. Mold can develop on virtually any organic material if conditions like temperature, moisture, and humidity are met.
Adhesives and padding used in carpet installations may also off-gas volatile organic compounds (VOCs) into the air. Vinyl and linoleum adhesives can also contribute to indoor pollution levels.
Concrete floors are impervious to the growth of mold, mildew, and other microorganisms that feast on decomposing organic matter.
Clear the Air of Particles
Another benefit to choosing polished concrete for your flooring is that they are compatible with radiant in-floor heating systems. And when you have radiant floor heating, you can say goodbye to the kicked up dust from traditional forced air systems. Without dust being blown about through forced air systems, you can breathe easier.
Protection from Harmful Chemicals
Polished concrete has not been treated with chemicals or sealers that could potentially emit volatile organic compounds (VOCs) that harm human health. A simple sweep and a wet mop using non-toxic, mild detergents is all that's needed to keep them looking brand new. Due to its lack of influence on indoor air quality, concrete flooring is even being used in healthcare facilities.
If you think that concrete is the flooring choice for you, contact our team! Colorado Hard Surfaces transform concrete surfaces into beautiful works of art. We will also repair any existing concrete damage, such as cracks, spalling, and discoloration.