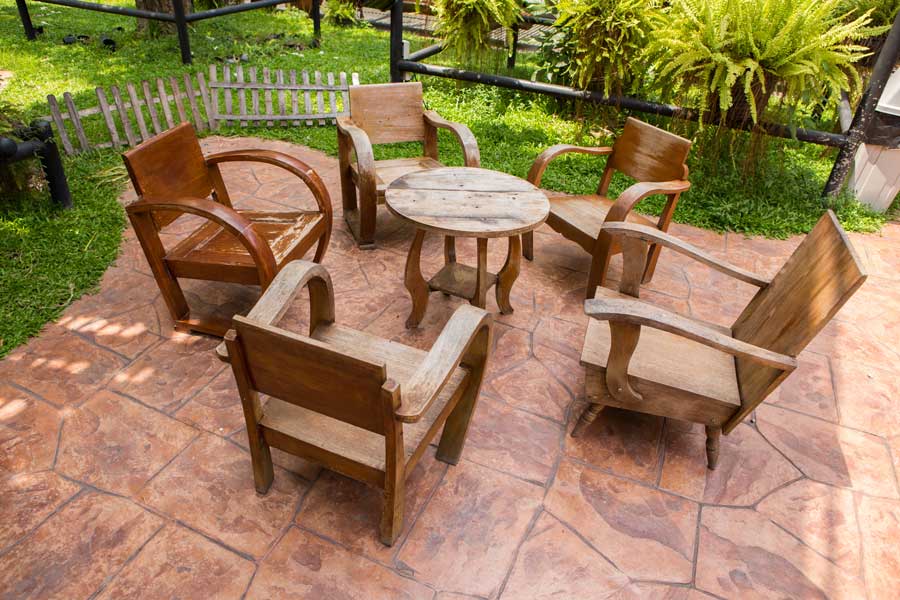 By CO Hard Surfaces
Posted on 7-6-2022

Patios can be built around pools or onto the exterior of your home in order to provide a place for friends and family to sit, relax, and enjoy each other's company. There are many different materials that can make for a great patio, but we believe that concrete patios offer the most in terms of durability, room for aesthetic, and ease of maintenance. Allow us to explain in more detail some of the advantages of a concrete patio.
Other popular materials for patios are wood and stone. One of the major disadvantages for these materials, however, is that they are much more expensive than concrete to install and to maintain.
For slate and other stone patios, their arrangement leaves little cracks in between each stone paver. This space allows weeds to grow, and we all know that regularly pulling weeds is an undesirable chore. So, in addition to being more expensive, stone patios require more upkeep to maintain a nice look.
Wood patios, on the other hand, are influenced heavily by the outside elements. Heavy rain, snow, and foot traffic can wear down the wood. If the wood is not regularly stained and sealed, exposure to moisture can cause it to rot and splinter. Sealants also offer UV protection, so if your wood patio is not regularly treated, constant exposure to the sun will cause it to discolor and become brittle. Additionally, some bugs love to feast on wood and if your patio becomes infested with these pests, it can prove dangerous and expensive.
When you consider concrete as a material, it is relatively cheap, and it is quite easy to maintain. When confronted with harsh weather, concrete holds up extremely well. And as far as cleaning concrete goes, all that you need is to rent a power washer to blast away dirt. Concrete is also very versatile when it comes to style. Love the look of stone but don't love the price tag? Concrete can be easily stamped or scored in a way that looks very similar to real stone. Do you desire a certain color? Concrete is also easily stained to suit any color preference you have.
All in all, patios are great additions to backyards and concrete is a great material that allows you to get the most out of your patio. If you want to discuss all the possibilities of a concrete patio, contact CO Hard Surfaces today!